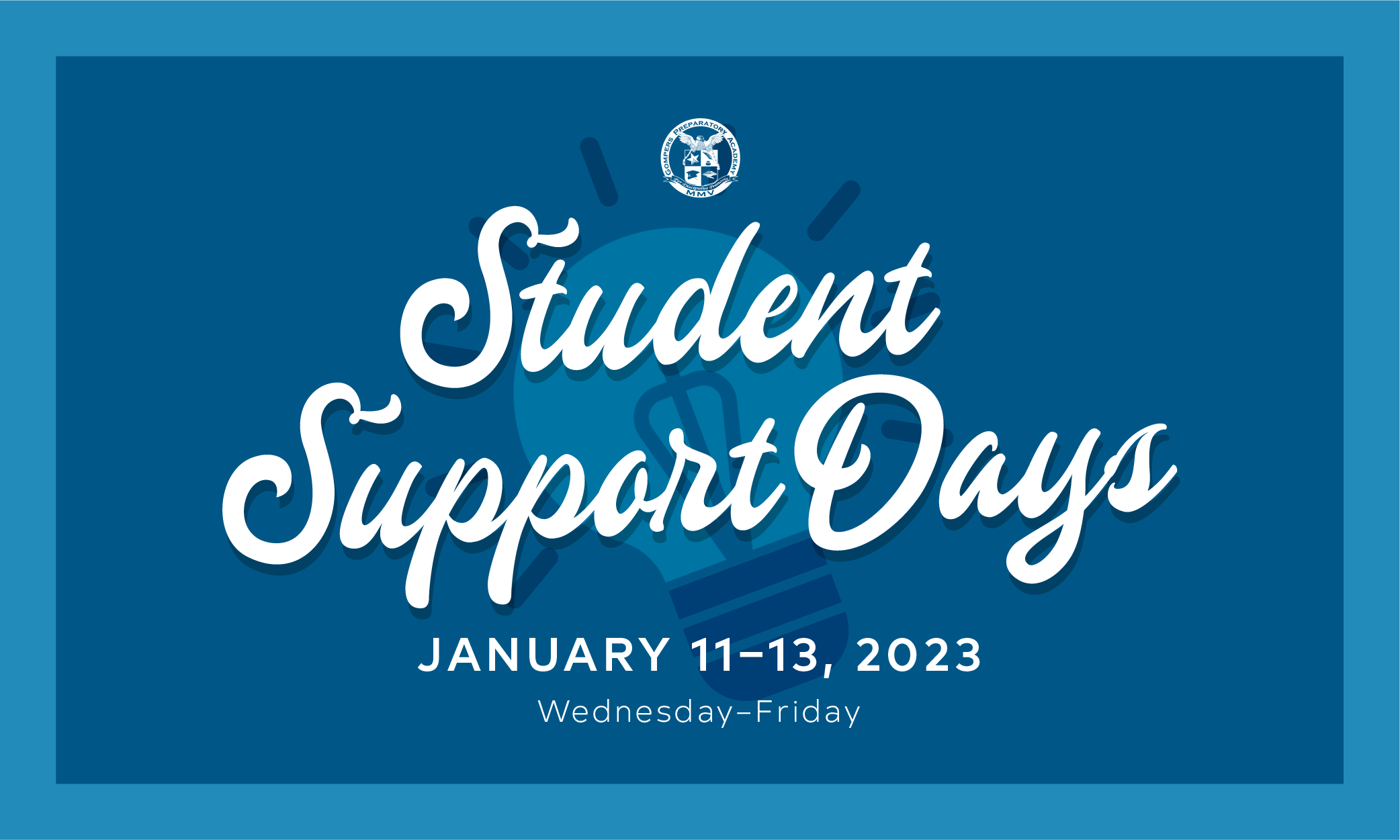 Dear GPA Parents/Students:
As a reminder, next week's school schedule is different.
Monday, Jan. 9th and Tuesday, Jan. 10th we will be on a regular schedule.
Wednesday, Jan.11th – Friday, Jan. 13th, most students will be off campus.
Students will NOT come to campus Wednesday, Jan. 11th through Friday, Jan. 13th as part of our scheduled Student Support Week unless they have a specific appointment/s with their teacher(s).
These at-home days were built into the school year calendar to provide students with time to work in person or remotely with staff via Zoom for one-on-one tutoring, small group instruction, and work completion/make-up, including any missed quarter finals.
The schedule next week will be:
Monday (1/9 : 8:30 – 1:45PM) and Tuesday (1/10: 8:30 – 4:00PM): In person On Campus School Days
Wednesday – Friday (1/11- 1/13): Student Support Days

Starting on Wednesday, January 11th, students will NOT report to GPA for their normal schedule.
Students will stay home and work with staff over Zoom or come to campus individually as needed. Teachers will inform which students MUST attend Student Support Days.
Teachers will provide students with Zoom links through Google Classroom if they are scheduled to attend.
Steps to take BEFORE next week:
Review PowerSchool with your child and determine how your child will best benefit from our Student Support Week.
If your child is receiving a D or F in any of their classes, remind your student that they must work with their teachers next Wednesday, Thursday and/or Friday in person or remotely via Zoom to get the additional support needed.
Be sure your student's GPA chromebook is charged and internet access is secure.
If your child is receiving a D or F in any of their classes and you have not heard from the teacher, reach out to their teacher(s) to schedule their Student Support Time.
If your child is not required to meet with their teacher(s) over Zoom Wednesday – Friday of next week, we encourage them to rest, celebrate their success in Semester One, focus on their mental health, read a good book and prepare for the 2nd Semester.
GPA is dedicated to providing this resource of additional time so that students have every possible opportunity to succeed. Thank you for all that you do at home to partner with us here at school. Together we are able to do great things for our students during a very challenging time.
With Students First,
Vincent M. Riveroll
Superintendent/Director
Estimados padres/tutores de GPA:
Como recordatorio, el horario escolar de la siguiente semana es diferente.
Los días lunes 9 y martes 10 de enero serán de horario regular
Del día miércoles 11 de enero – viernes 13 de enero, la mayoría de los estudiantes estarán fuera del campus.
Los estudiantes NO asistirán al campus del miércoles 11 de enero al viernes 13 de enero como parte de nuestro programa Semana de Apoyo Estudiantil, únicamente si están programados para asistir con sus maestros.
Estos días en casa se incorporaron al calendario del año escolar para brindarles a los estudiantes tiempo para trabajar de forma remota con el personal a través de Zoom para tutorías individuales, instrucción en grupos pequeños y finalización de tareas / recuperación de trabajos, incluidos los exámenes trimestrales faltantes.
El horario de la próxima semana será:
Lunes (9 de enero de 8:30am a 1:45 pm) y martes (10 de enero de 8:30am a  4:00pm ) las clases serán presenciales en el campus.

Miércoles 11 – Viernes 13 : Días de apoyo al estudiante.

Empezando el día miércoles 11 de enero, los estudiantes NO se reportarán a GPA para su horario normal.

Todos los estudiantes se quedarán en casa y trabajarán individualmente con el personal a través de Zoom según sea necesario. Los maestros informarán qué estudiantes deben asistir a los días de apoyo estudiantil.

Los maestros proporcionarán a los estudiantes enlaces de Zoom a través de Google Classroom si están programados para asistir.
Pasos a seguir ANTES de la próxima semana:
Revisar PowerSchool con su hijo y determinar cómo su hijo se puede beneficiar de nuestra Semana de Apoyo al Estudiante.

Si su hijo ha recibido una D o F en cualquiera de sus clases, recuérdele a su hijo que debe trabajar con sus maestros el próximo miércoles, jueves  y / o viernes de forma remota a través de Zoom para obtener el apoyo adicional necesario.

Asegúrese de que el Chromebook de GPA de su estudiante esté cargado y que el acceso a Internet sea seguro

Si su hijo recibió una D o F en alguna de sus clases y usted no escuchó nada por parte de su maestro, favor de buscar a su maestro(s) para agendar el tiempo de apoyo para su estudiante.
Si su hijo no está obligado a reunirse con su maestro (s) vía Zoom de miércoles a viernes de la próxima semana, lo invitamos a descansar, celebrar su éxito en el primer semestre, concentrarse en su salud mental, leer un buen libro y prepararse para el 2do semestre.
GPA se dedica a proporcionar este recurso de tiempo adicional para que los estudiantes tengan todas las oportunidades posibles para tener éxito. Gracias por todo lo que hacen en casa para colaborar con nosotros. Juntos podemos hacer grandes cosas para nuestros estudiantes durante un tiempo muy desafiante.
Con los estudiantes primero,
Vincent M. Riveroll
Superintendent/Director