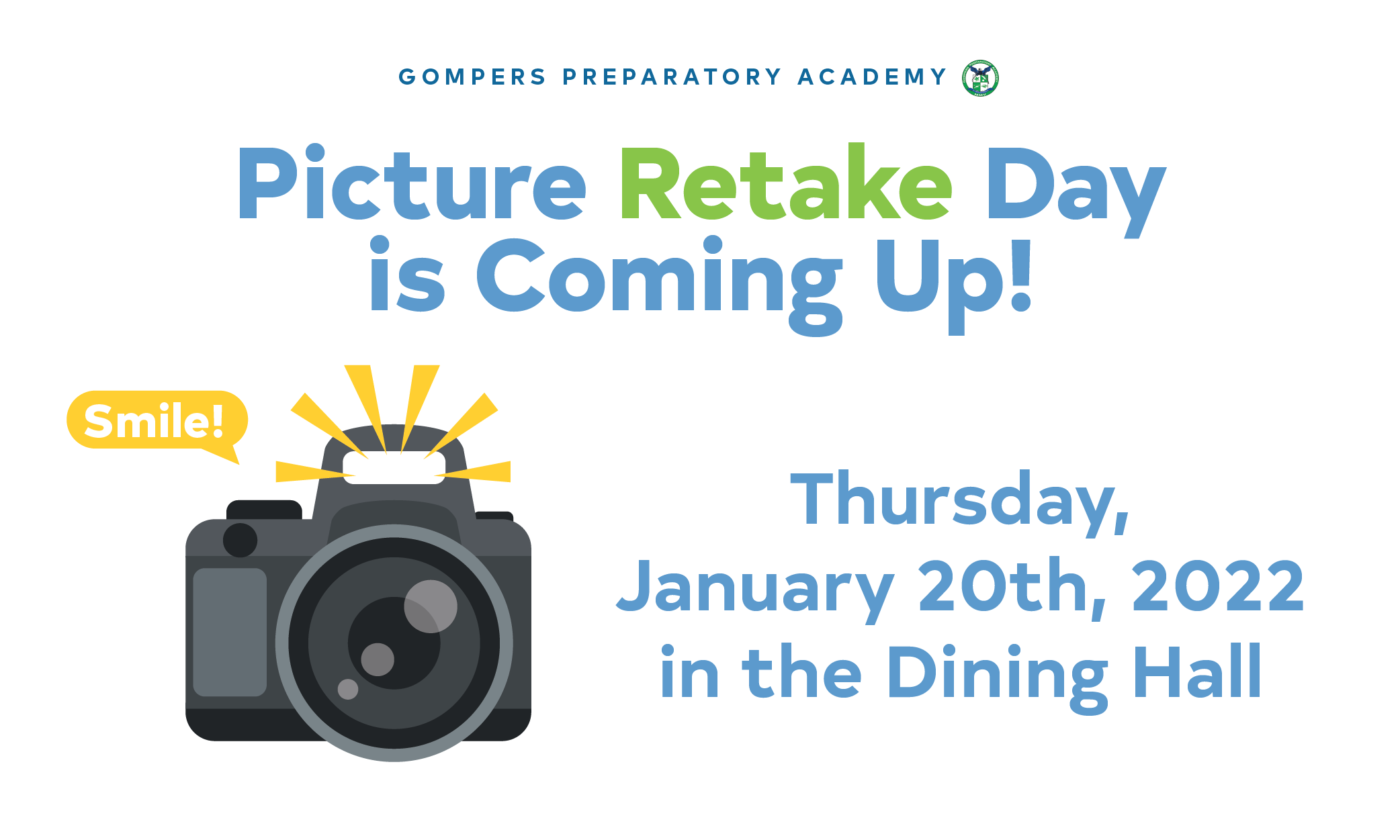 Greetings GPA Families,
Picture Retake Day is scheduled for Thursday, January 20th, 2022.
If your child was absent for Picture Day, they will have the opportunity to be photographed on Thursday, January 20th. 
All students are required to be in their formal Monday-Thursday school uniform and adhere to the GPA Uniform requirements as outlined in the GPA Student Handbook.
Gentlemen must be clean-shaven. Beards and mustaches are prohibited. 

Hair may not have any distracting colors or styles. Distracting hair color would be any unnatural coloring of the student's hair. (i.e. pink, purple, green, blue, orange, etc.) Hair accessories may be worn as long as they are navy, white, black, or green.

No Bandanas, rags, or non-GPA scarves are allowed.

Headwear for religious or medical reasons is required, please follow the acceptable guidelines for hair accessories.

No earrings larger than a quarter may be worn.

Facial piercings must be taken out or covered – no exceptions.
We encourage you to have your child bring their GPA-approved blazer, cardigan, or vest. GPA windbreakers, sweatshirts, or non GPA outerwear will not be accepted.
All photo orders will need to be placed online directly with Lifetouch.  
Enter your Picture Day ID:

EVTKMPWQQ

Order your perfect package – and don't worry about returning anything on picture day!
If you have any questions, please call the Welcome Center at (619) 263-2171.
Estimados familias de GPA, 
Ya llega el dia de la retoma de fotografia escolar, sera el jueves, 20 de Enero.
Los estudiantes tendrán la oportunidad de ser fotografiados si estuvieron ausentes el día oficial de fotografia escolar.
Se requiere que todos los estudiantes usen el uniforme escolar formal de lunes a jueves y cumplan con los requisitos de su uniforme de GPA como se describe en el Manual Estudiantil.
Los caballeros deben estar bien afeitados. Se prohíben las barbas y bigotes.

El cabello no debe tener colores o estilos que distraigan la atención. El color de cabello que distrae sería cualquier coloración anti natural del cabello del estudiante. (es decir, rosa, morado, verde, azul, naranja, etc.) Se pueden usar accesorios para el cabello siempre que sean azul marino, blanco, negro o verde.

No se permiten pañuelos, trapos o bufandas que no estén bajo los reglamentos de GPA.

Los accesorios para la cabeza por razones religiosas o médicas, siga las pautas aceptables para accesorios para el cabello.

No se pueden usar aretes más grandes que una moneda de veinticinco centavos.

Ningún tipo de

perforaciones

faciales

(piercings)

son aceptables, sin excepciones.
Le recomendamos que su hijo/a traiga su sudadera azul o cardigan aprobados por GPA. Ya que no se permitirá la chamarra rompevientos de GPA, o sudaderas o prendas que no estén dentro de GPA.
Todos los pedidos de fotografías deberán realizarse en línea directamente con Lifetouch.
Ingresa tu identificación del Día de

retoma

de Foto:

EVTKMPWQQ

Ordena tu paquete perfecto, ¡y no se  preocupen en regresar nada el día de tu fotografía escolar. 
Si tiene preguntas llame al Welcome Center oficina Principal (619) 263-2171.