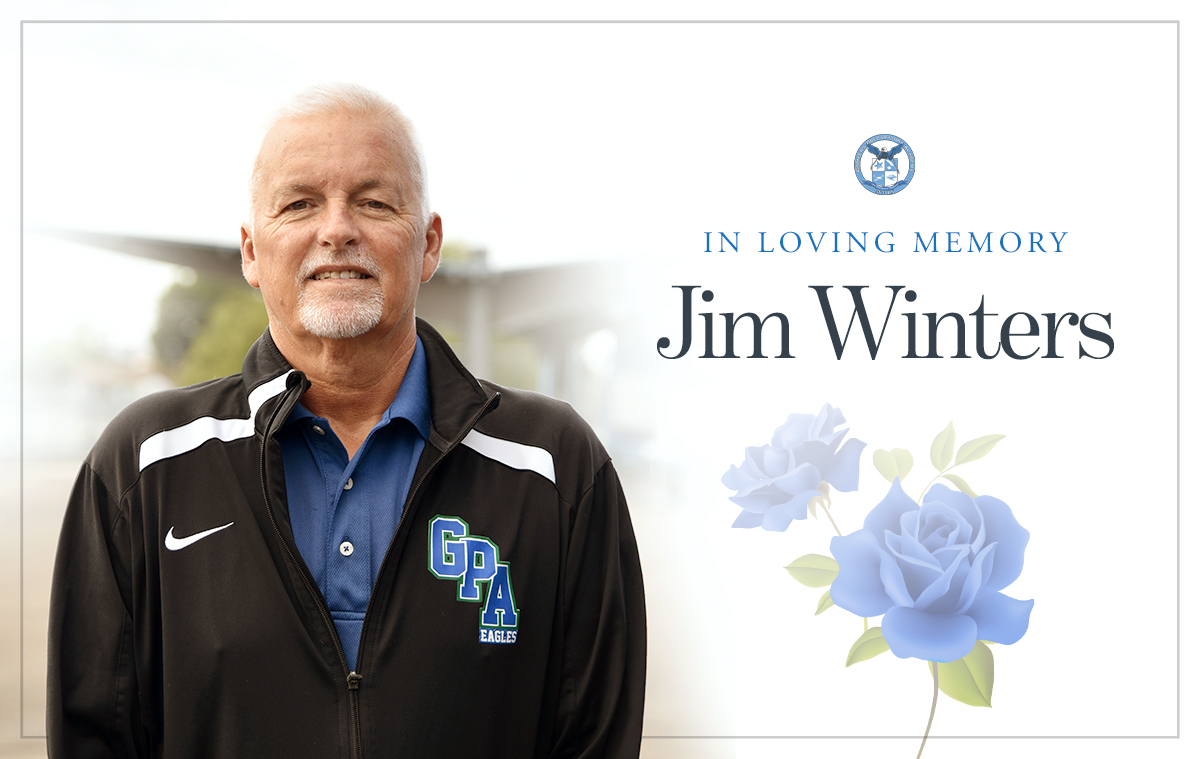 GPA Family,
It is with the heaviest of hearts that I inform you that our beloved Dean of Student-Athletes and friend, Jim Winters, passed away this morning.  His long and courageous battle with cancer never stopped him from his heart work with our students. It was his love for his students, family and friends that kept him fighting on despite his weakening condition.
Everyone who had the honor to know Mr. Winters was elevated by his story, his warm personality, and his unwavering commitment to our students and to GPA. He embodied what it means to be there for others and to truly listen. It was commonplace to see Mr. Winters working alongside students on the tennis court, in classrooms, and before and after school. Students and staff looked forward to seeing an open door at his office. They knew that a quick chat with him would always brighten their day. Mr. Winters used his countless human gifts to encourage others to believe in themselves and shine to their fullest potential. He was an inspirational blessing to our school community.
Mr. Winters' love for our students and for GPA was unparalleled. Over the last eleven years, countless lives have been changed for the better because Mr. Winters was a part of them. Some of the many contributions Mr. Winters added to our lives at GPA and beyond include: Building our athletic program from the ground up; providing access to sports for students who were first-time athletes; supporting student-athletes with college scholarships; creating community partnerships that enabled our students to have more opportunities; being an inspiring tennis and life coach; growing the athletic program; developing other coaches; tutoring students in academics; celebrating student-athletes at every turn; and being both a role model and father figure for many. From ping pong tournaments, to endless lunches with students, to being awarded Staff Member of the Year in 2018 by his colleagues, Jim Winters created a long lasting legacy at GPA. He was more than a coach, more than a mentor, he was a guiding light for students and staff who, through his kindness and thoughtfulness, found in him a friend and a hero.
The absence of Mr. Winters from our lives will leave a hole that cannot be filled. However, his selflessness, his loving nature, his desire to bring joy to the lives of all lucky enough to know him, can live on in us all. We can continue to embody the man that Mr. Winters was in all that we do. His courage and spirit live on in our hearts. I've heard it said that, "Courage doesn't always roar. Sometimes courage is the little voice at the end of the day that says I'll try again tomorrow." Mr. Winters will always be remembered as our courageous friend, our courageous Eagle.
Please keep his family in your thoughts and prayers during this difficult time of sorrow.
Our counseling department is prepared to support both staff and students through this painful situation. If any of your students need additional support, please refer them to their grade level counselor as needed. Any further questions you may have can be directed to AD Chodzko. 
God Bless Mr. Winters.