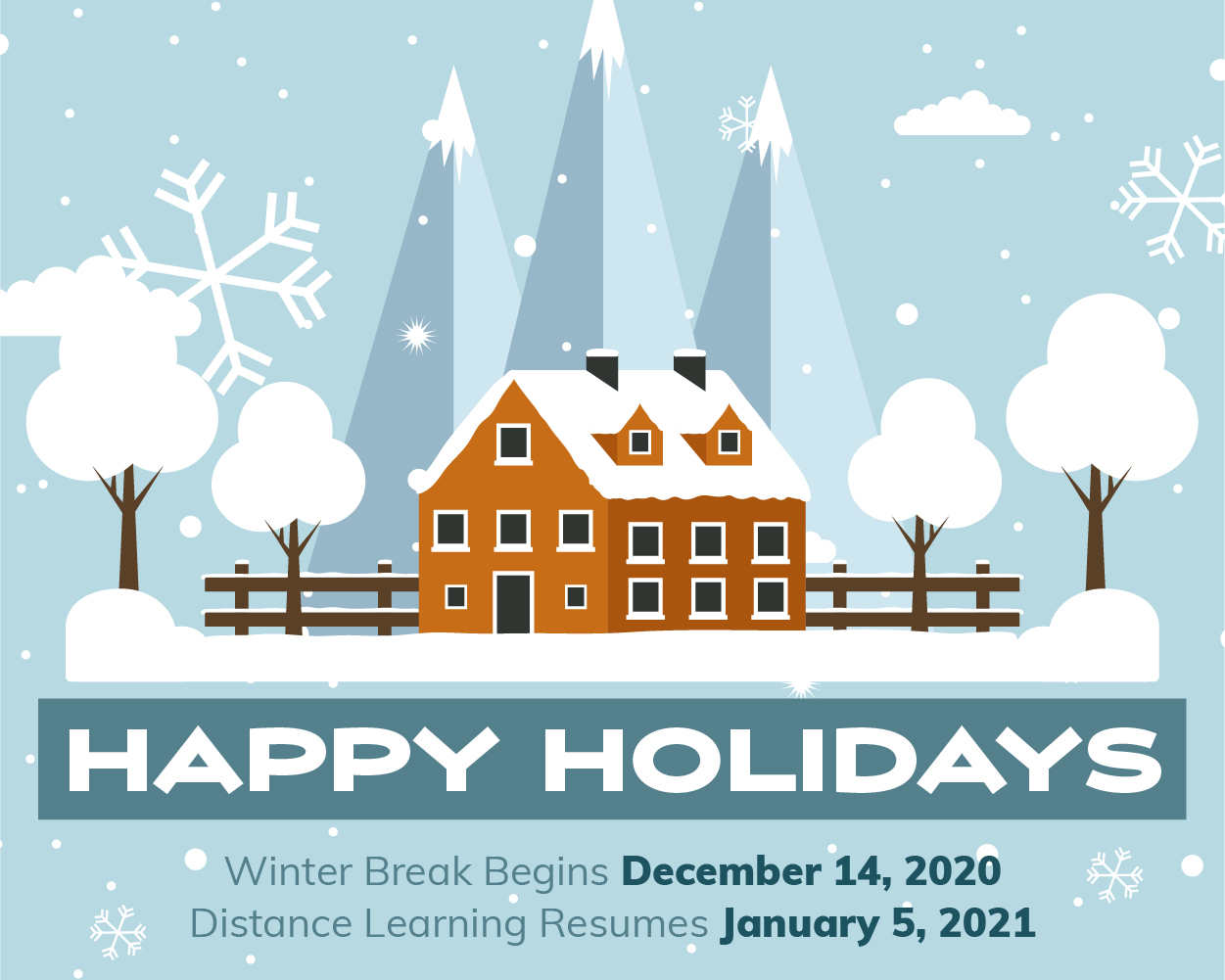 Greetings GPA Parents and Students,
This has been an unprecedented school year that has challenged us to find ways to support you and our students. Our focus this year has been to show patience, flexibility, kindness and grace with each student, parent and staff member. With that in mind, there will be no formal winter intersession this year. Instead, winter break will be from December 14th – January 5th.
We are proud of the hard work our students and staff have exhibited in distance learning in both their studies and attendance. As communicated in the beginning of this academic term, our distance learning plan continues to evolve. We are cognizant of the enormous impact the pandemic is having on our lives.
Use this winter break to recharge for the work ahead in the new year under these continued difficult conditions. We need everyone well rested in body and mind in order to learn and teach effectively.
Students are encouraged to spend their winter break engaged in the following activities:
Enjoying the holidays
Safely exercising daily
Completing missing assignments
Reading a "just right" book
Writing in your journal
Doing something that brings you JOY
Seniors researching and applying for college scholarships
Getting ahead in your Advanced Placement readings
Organizing your files, notes, mind, google docs, workspace
GPA staff members are also encouraged to exhale and find peace with their families; as well as prepare for the new year with distance learning lesson plans ready to go for our students. With such dedication, our staff may reach out to parents and students over the break to check in and offer academic support as needed. Don't be surprised if one of your teachers reaches out to you and wants to offer more support over the break. What a gift!
We trust this winter vacation time will be warmly welcomed by parents, students and GPA staff alike, as we are all in this pandemic together. May you find peace and joy this holiday season. If you have any questions, please contact your child's teacher or a member of our leadership team.
With Students First,


Vincent M. Riveroll
Superintendent/Director
---
Saludos a los padres y estudiantes de GPA,
Este ha sido un año escolar sin precedentes que nos ha retado a encontrar maneras de apoyarlos a ustedes y a nuestros estudiantes. Nuestro enfoque este año ha sido mostrar paciencia, flexibilidad, amabilidad y gracia con cada estudiante, padre y miembro del personal. Con este objetivo, este invierno no habrá clases formales de intercesión (actualización.) En cambio, las vacaciones de invierno serán del 14 de diciembre al 5 de enero. 
Estamos orgullosos del trabajo arduo que nuestros estudiantes y personal han exhibido en la educación a distancia tanto en sus estudios como en su asistencia. Como se comunicó al principio de este trimestre académico, nuestro plan de educación a distancia continúa evolucionando. Estamos conscientes del enorme impacto que la pandemia está teniendo en nuestras vidas.
Aprovechen este receso de invierno para reponerse y poder trabajar en el nuevo año bajo estas constantes y difíciles condiciones. Necesitamos que todos descansen bien en cuerpo y mente para aprender y enseñar eficazmente.  
A los estudiantes se les recomienda que durante las vacaciones de invierno se mantengan ocupados en las siguientes actividades:
Disfrutar de los días festivos

Hacer ejercicio diariamente de forma segura

Completar las tareas que faltan

Leer un libro "ideal para ti"

Escribir en tu diario

Hacer algo que te traiga ALEGRÍA

Los estudiantes del doceavo grado que investiguen y soliciten becas universitarias

Adelantar las lecturas de tus clases de Asignación Avanzada

Organizar tus carpetas, notas, mente, Google Docs, área de trabajo
También se exhorta a los miembros del personal de GPA a que exhalen y encuentren paz junto con sus familias; Y que se preparen para el nuevo año planificando y tengan listas las lecciones del programa de aprendizaje a distancia para nuestros estudiantes. Con dedicación, nuestro personal puede contactar a los padres y estudiantes durante el receso para ofrecerles el apoyo académico que necesiten. Que no les sorprenda si uno de sus profesores se comunica con ustedes y quiere ofrecerles más apoyo durante el descanso. ¡Qué regalo!
Confiamos en que estas vacaciones de invierno sean bien recibidas al igual que por los padres, los estudiantes y el personal de GPA, ya que todos estamos juntos en esta pandemia. Les deseamos que encuentren paz y alegría en esta temporada de festividades. Si tiene alguna pregunta, por favor contacte al maestro de su hijo o a un miembro de nuestro equipo de liderazgo.
Con los Estudiantes Primero,


Vincent M. Riveroll
Superintendente/Director