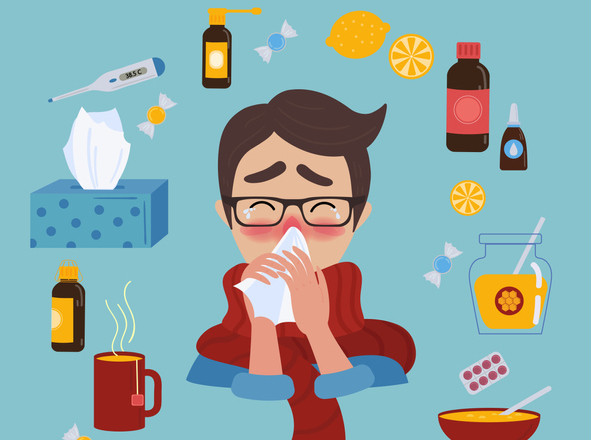 Dear Gompers Preparatory Academy Parent or Guardian:
The peak of the cold and flu season is upon us. To prevent widespread flu in the school, we recommend that your child stay home from school if experiencing flu or severe cold symptoms. To decide whether or not to send your child to school, please consider the following guidelines.
Keep your child at home for treatment and observation if he or she has any of these symptoms:
Fever (greater than 100 degrees and your child may return to school only after his or her temperature has been consistently below 100 degrees, for a minimum of 24 hours)
Vomiting (even once)
Diarrhea
Chills
General malaise or feelings of fatigue, discomfort, weakness or muscle aches
Frequent congested (wet) or croupy cough
To help prevent the flu and colds, please remind your children to use good hygiene habits:
Wash hands frequently
Do not touch eyes, nose or mouth
Cover mouth and nose when sneezing or coughing, use a paper tissue, throw it away and then wash hands
Avoid close contact with people who are sick
Colds are the most contagious during the first 48 hours. A child who has a fever should remain at home until "fever free" for a minimum of 24 hours.
The 2019-20 flu season has been complicated by recent reports of the coronavirus. At this time, reports indicate that, similar to influenza, this virus may be spread when a sick person coughs or sneezes. Currently there have been no reported coronavirus cases in San Diego County. The CDC has said the current risk of local transmission is low. We will continue to monitor the situation and obtain updates from the California Department of Public Health and local health officials about the diagnosis and management of cases of coronavirus as applicable.
If you have any questions about these topics, please feel free to contact our school nurse Allison Baher at (619) 263-2171, est. 3050 or abaher@gomperscharter.org
---
Estimado padre o tutor de Gompers Preparatory Academy:
La temporada alta de gripe y resfriados está sobre nosotros. Para prevenir la propagación de la gripe en la escuela, recomendamos que su hijo permanezca en casa fuera de la escuela si experimenta gripe o síntomas de resfriado severo. Para decidir si enviar o no a su hijo a la escuela, considere las siguientes pautas:
Mantenga a su hijo en casa para recibir tratamiento y observación si tiene alguno de estos síntomas:
Fiebre (más de 100 grados y su hijo puede regresar a la escuela solo después de que su temperatura haya estado constantemente por debajo de los 100 grados, durante un mínimo de 24 horas)
Vómitos (incluso una vez)
Diarrea
Resfriado
Malestar general o sensación de fatiga, malestar, debilidad o dolores musculares
Tos frecuente congestionada (húmeda) o tos exagerada
Por favor recuerde a su hijo seguir los buenos hábitos de higiene para prevenir la gripe y resfriados:
Lavar sus manos frecuentemente
No tocarse los ojos, nariz o boca
Cubrir la nariz y boca al estornudar o toser, utilizar papel, tirarlo y después lavarse las manos
Evitar contacto con personas enfermas
Los resfriados son los más contagiosos durante las primeras 48 hrs. Un niño con fiebre deberá de permanecer en casa hasta "que pase la fiebre" por un mínimo de 24 hrs.
La temporada de 2019-20 de gripe se ha complicado por los recientes reportes del coronavirus. Por el momento reportes indican que es similar a la influenza, este virus se puede programar cuando una persona enferma estornuda o tose. Actualmente no ha habido reporte de casos de coronavirus en el Condado de San Diego. El Centro para el Control de Enfermedades (CDC) ha reportado que se encuentra bajo el riesgo de transmisión local. Continuaremos monitoreando la situación  y obtendremos actualizaciones del Departamento de Salud Pública de California y de las oficinas locales de salud en relación al diagnóstico y manejo de casos de coronavirus según corresponda.
Por favor siéntase libre de contactar a la enfermera de la escuela Allison Baher, si tiene alguna pregunta en relación a estos temas al (619) 263-2171 extensión 3050 o al correo electrónico abhaer@gomperscharter.org.