By Maureen Magee April 19, 2016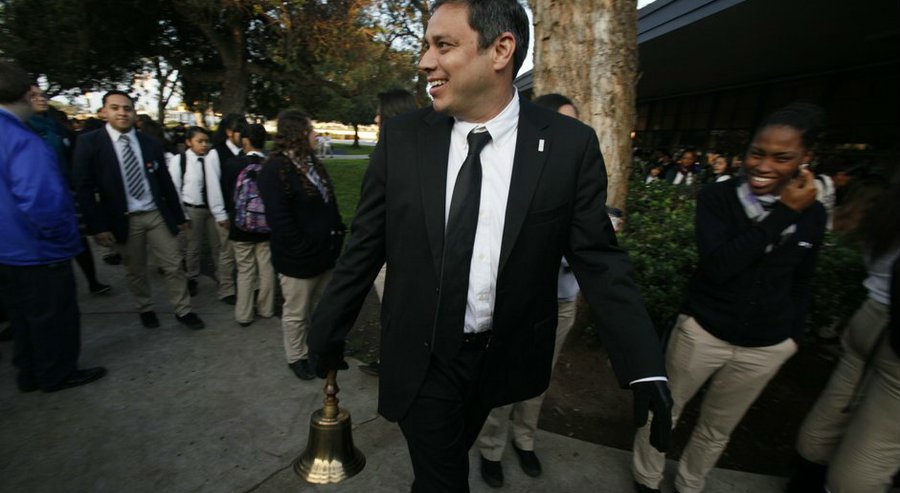 Vincent Riveroll, the director of Gompers, rings a bell as part of a procession and ceremony to start the day at the school. — Peggy Peattie
SAN DIEGO — A report released by the California Charter Schools Association on Tuesday shows that independent charters are increasing access to college among disadvantaged students.
The study shows that charters are making a dent in the University of California acceptance rate gap for under-represented students. Charter schools serving a majority of low-income students have a UC acceptance rate of 21 percent, nearly double the 11 percent acceptance rate at traditional schools with similar demographics, according to the study.
The report says African-American and Latino charter students are almost twice as likely (19 percent) to apply to a UC campus as their counterparts in traditional public schools (11 percent).
"For so long we have seen the achievement gap, but there has also been an admissions gap," said Jed Wallace, CEO of the charter association.
The report was released at Gompers Preparatory Academy in San Diego, which has seen dramatic gains in student performance in the 11 years since it converted from an underperforming traditional school to a charter.
Gompers has long required that its students pass the sequence of courses (commonly known as A through G) required to apply to a UC or California State University campus. What's more, submitting a college application is a classroom assignment for all seniors.
"We spend as much time on school culture as we do on curriculum," said Gompers director Vince Riveroll, who personally announces every student's college acceptance over the campus loud speaker.
Of Gompers' 123 seniors, 89 percent have been accepted a four-year university. Some 76 percent of seniors have been accepted to a UC campus, including 44 to UC San Diego.
Gompers serves students in its Chollas Mead neighborhood. But most charters accept students who apply through a lottery. The report dismisses criticism that charter students have an advantage over others because they were savvy enough, or more motivated, to apply to a charter in the first place.
According to the study, charter high schools have a 37 percent completion rate of A through G courses, compared with 24 percent at traditional high schools.
More and more school districts, including those in San Diego and Los Angeles, have recently added the college-prep sequence of classes to high school graduation standards. The class of 2016 will be the first required to meet the new standards in the San Diego Unified School District.
Other research shows that requiring A through G classes to graduate could position more students to attend college.
At San Diego Unified and other districts, students must pass the college-prep classes with a minimum D grade, even though UC and CSU requires at least a C in those courses.
However, more San Diego students are poised to be eligible for college under the stepped-up standards (even as graduation rates are expected to drop). A projected 10 percent increase in the number of students in the class of 2016 are earning a C or better in college-prep courses, compared with the class of 2014 under the old graduation standards, according to a separate study conducted by UC San Diego researchers this year.
The charter report, "A Step Up: How Charter Schools Provide Higher Levels of California Public University Access," relies on data from the UC system from 2011 to 2013. All told, the average charter sends 7 percent of graduates to a UC, compared with 5 percent at a traditional school.
Researchers linked UC data to 173 charters and 985 traditional high schools. For both types of school, that represents fewer than half of all schools with graduates, the report said.
The findings have prompted the charter school association to issue the following recommendations: strengthen access to A-G for all historically disadvantaged students; improve data collection and availability of post-secondary data to fuel additional research; and showcase efforts to improve college and career readiness.