[RoyalSlider Error] Flickr Responded: "Photoset not found"
Commencement:
Commencement for the Class of 2015 will be held on Friday, June 19th at the Joe & Vi Jacobs Center (404 Euclid Ave. San Diego, CA 92114). Doors Open at 2:30PM, show begins at 3:00PM. Tickets are no longer available as this event is SOLD OUT.
You may still watch the commencment via our website! Tune in to our website at 2:45pm on June 19th to watch the live stream of our amazing graduation.
No School Friday, June 19th: Grades 6-12
Due to the Class of 2015 Commencement (see information above) there will be no school on Friday June 19th.
Early Dismissal Monday, June 22nd – Thursday, June 25th
School will be dismissed at 12:45pm the week of June 22nd – June 25th.
Last day of school grades 6-11: Thursday, June 25th
Thursday June 25th is the last day of school for grades 6-11. Please note that it will be a minimum day and students will be out at 12:45pm.
Summer School:
Summer School will be held July 1 – August 4 from 7:30am to 12:50pm. Letters have been sent home to students that are required to attend.
Encore Summer Camp: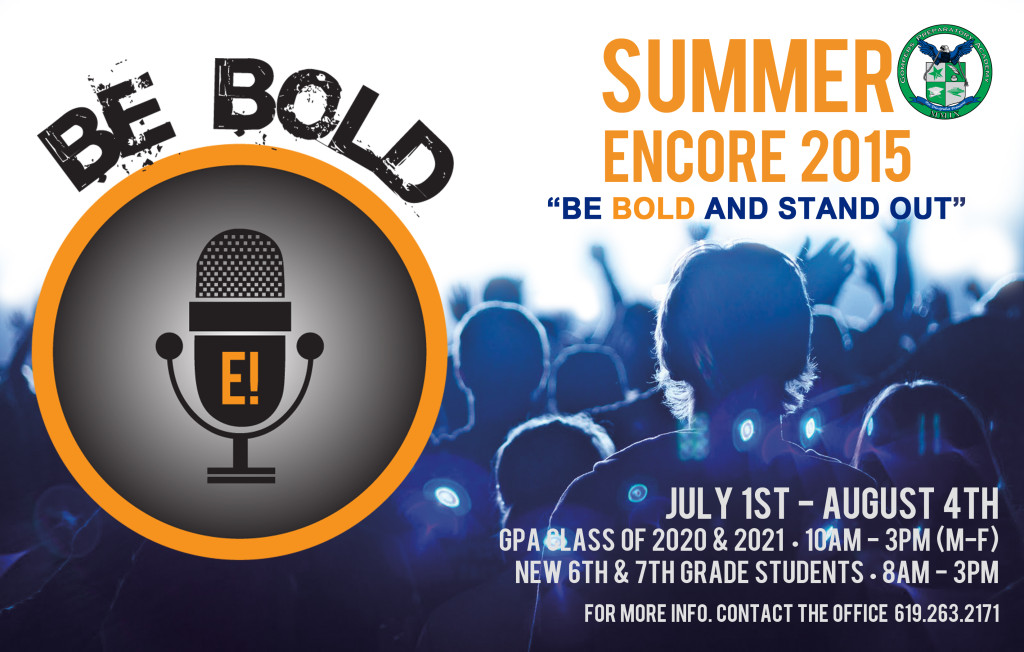 GOOOOOO EAGLES!!